P&G's Journey to LGBT Equality in the Workplace
Our commitment to Diversity & Inclusion is unwavering as all of us at P&G continue to foster a workplace culture of respect and inclusion, so that we can achieve our mission of Everyone Valued, Everyone Included, Everyone Performing at Their Peak.™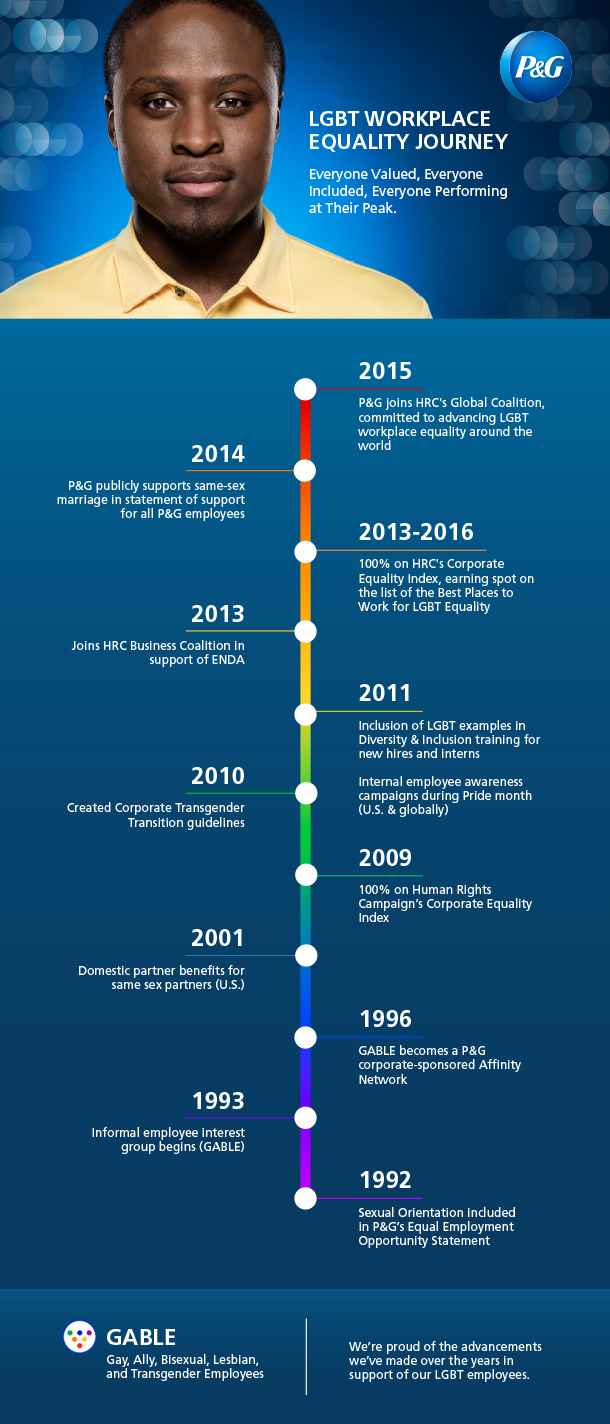 It's been a monumental few years for America, and at P&G, we're proud to support the progress and proud to support the LGBT community, especially those in our affinity group, GABLE (Gay, Ally, Bisexual, Lesbian & Transgender Employees):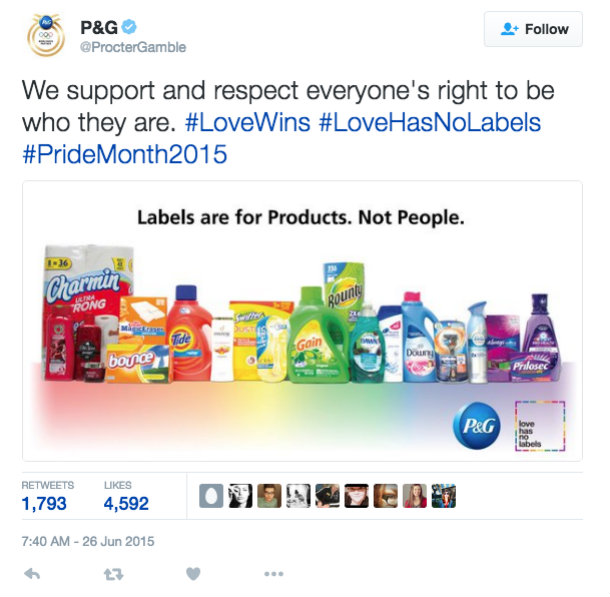 We support and respect everyone's right to be who they are. #LoveWins #LoveHasNoLabels #PrideMonth2015 pic.twitter.com/Ti1wWmKfCd
Thank you for proudly celebrating everyone's right to be who they are with us! #LoveWins #LoveHasNoLabels #PRIDE pic.twitter.com/07JM6N5AUP
— P&G (@ProcterGamble) June 30, 2015
GABLE is dedicated to fostering an inclusive, supportive global network that enables Gay, Ally, Lesbian and Transgender employees to contribute to their fullest potential and to bring their whole self to work every day. What began as largely a North American-centered network for fostering workplace equality for Lesbian, Gay, Bisexual and Transgender (LGBT) employees has grown into a supportive and global community, with chapters in every region of the world. These grassroots efforts have evolved into chapters representing the diversity of our employees as well as strong allies to support individuality and inclusion.
At the end of the day, we believe labels are for products, not for people. Everyone's valued, everyone's included at P&G. Join us.