P&G's Ariel Launches #SharetheLoad Campaign to Shine Light on Inequality in Household Gender Roles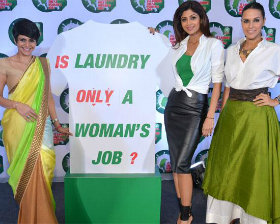 While India is working toward equal opportunities for all in the workplace, the issue of gender inequality within the household still remains. In fact, research shows that 76 percent of Indian men feel laundry is a woman's job and 85 percent of Indian women feel they are working two jobs, one at work and another at home.
As a result, P&G brand Ariel India has launched a campaign to fight for gender equality in the household, specifically when it comes to household chores. Their #SharetheLoad campaign aims to show how fathers and husbands can take small steps, like doing laundry, to create more equal homes.
The campaign has garnered a great deal of recognition and support, even winning a Glass Lion at the 2015 Cannes Lions International Festival of Creativity. A host of famous faces and celebrities have also showed their support of the movement, including Facebook COO Sheryl Sandberg, re-emphasizing that equality within the household is key to a happier home.
The campaign's most recent installment is a poignant short film about a dad's self-realization that men need to share the responsibilities of household chores and lessen the burden on women. Watch the video below:
Ariel is proud to advance the cause of household equality and get men and women across India to #SharetheLoad. Ideas like this further illustrate P&G's goals & initiatives that go beyond the business. Together, we're sparking creativity, making an impact, surpassing challenges and creating ideas that touch and improve lives.
Sound like a purpose you can stand behind? Consider working with groundbreaking P&G brands worldwide. Explore opportunities today.